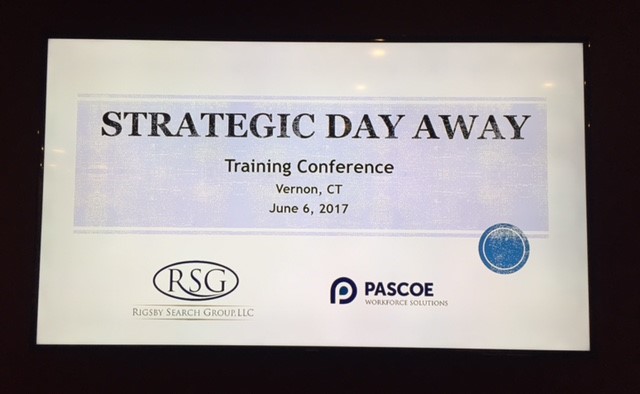 Last year, RSG partnered with our friends at Pascoe Workforce Solutions to host a Strategic Day Away, an all-day training conference complete with knowledgeable guest speakers, team-building exercises, and in-depth round-table discussions. It was such a successful day that we decided to make it an annual event, and so a few weeks back, we hosted our 2nd Annual Strategic Day Away.
It was a wonderful day of learning with new and old faces. One of our guest speakers was the dynamic Gail Audibert of Audibert Associates who took her morning off to offer her career expertise to us. We'd like to extend our warmest gratitude to her for sharing her time with us!
After a long but great day of learning, we ended with some friendly bowling and a delicious dinner. Thank you to all for coming! We are looking forward to next year!
https://rigsbysearch.com/wp-content/uploads/2020/07/logoExtended-1030x255.png
0
0
Rigsby Search Group
https://rigsbysearch.com/wp-content/uploads/2020/07/logoExtended-1030x255.png
Rigsby Search Group
2017-06-22 14:51:02
2017-06-23 09:37:35
2nd Annual Strategic Day Away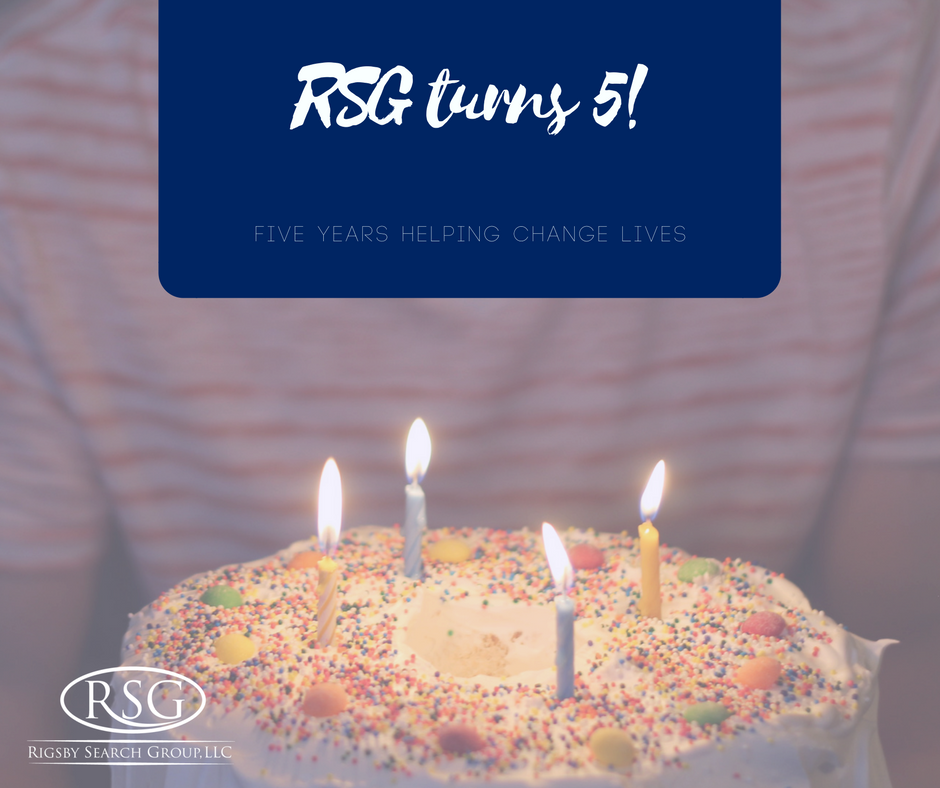 What has been the most rewarding part of running Rigsby Search Group for the past five years?
Recruiting is such a rewarding career in general; we're literally changing a person's life. As far as running a business, the most rewarding part has been building it all from scratch and watching it become what it is today. Before I started RSG, I was an environmental recruiter for 19 years, and when I left my old company behind, I had to slowly build RSG from the ground up. Now, five years later, we've built a successful team, created this truly wonderful company, and we continue to help people day in and day out. Seeing it all come to fruition is the most rewarding part.
What has been the biggest obstacle that RSG has had to overcome?
Finding talented individuals to help us grow. I want our company to continue to expand and flourish, and I think finding talented individuals to help us grow has been the toughest part of running a company. I recently hired a business coach to help show me how to truly hit my full potential as a leader for my team.
What has been the best lesson that you've learned since starting RSG?
To learn from your mistakes. There's always a lesson to be found. Everyone will make mistakes, but it's important to take responsibility for them and move on.
What does your vision for the future of RSG look like?
I see us growing tremendously so that we can help more people. RSG will have a national team one day, I assure you. I know the only way to achieve this goal is to keep seeking out people that are smarter than me, bringing them on, and building a strong team. I think this is what leadership is all about. I want our brand to be synonymous with excellence. A few other plans I have for the future include starting a civil engineering group and a construction remediation group. Overall, I just want to continue to help people grow. I'm excited for what the future holds for RSG. I know it will be outstanding.
https://rigsbysearch.com/wp-content/uploads/2020/07/logoExtended-1030x255.png
0
0
Rigsby Search Group
https://rigsbysearch.com/wp-content/uploads/2020/07/logoExtended-1030x255.png
Rigsby Search Group
2017-05-24 13:56:08
2017-05-24 13:56:08
Celebrating Five Years
Hiring can be stressful. You may not be the one in the hot seat going on interview after interview, but there is just as much pressure that hiring authorities feel as the candidates they are interviewing.
We get it. Your company needs you to make the right decision in order for it to grow and continue to succeed. Your workers need you to make the right decision in order for them to be satisfied and happy in their work environment. If you make the wrong decision when it comes to hiring, it can affect many. A company is like a well-oiled machine. All parts need to be working properly, and each failure can have lasting effects.
We're here to help. Over the years, we've learned some of the most important things to take into consideration when going through the hiring process.
Consider your current team. Your people should always be a priority for you, and the hiring process is no different. They should be just as much a part of it as you are. Obviously, you want to make everyone happy, and while that is not always possible, be sure to take into consideration the company atmosphere and work ethic. If you are at all questioning whether or not a candidate will fit in, address that concern. If there are certain people that the candidate will be working with on a daily basis, make sure they get a chance to meet the candidate as well. It's important that your current team feels like you thought of them through the process.
Hire the most talented and accomplished person, not the best resume. It can be easy to judge a book by its cover, or, in this case, a candidate by their resume. Try not to get caught up in the details. When interviewing, ask about past accomplishments and achievements. Talk with the candidate about those experiences, learn about how they used their skills in real-life situations. A resume speaks volumes, but not as much as the candidate that it represents. The best people to hire are not necessarily the brilliant ones, but the ones who can get the work done well and have a proven track record of doing so.
Follow a process. You create a job posting, advertise it, and the resumes start to flood in. It can get overwhelming trying to sift through all the potential candidates. This is where a third-party recruiting firm can come in to simplify the process for you. By letting a recruiter market the job and seek out qualified candidates, much of the pressure is taken off of your shoulders. Recruiters also have a wide network and they can find you rockstar candidates that may not necessarily be scouring job sites because, well, they have a job. This means they are good at what they do and would probably be a great person to have on your team. By following a process laid out by an experienced recruiter, the entire experience will be easier, organized, and stress-free.
Do you have any tried and true methods that you've followed in a successful hiring process? We'd love to know! Tweet us at @RigsbySearch.
https://rigsbysearch.com/wp-content/uploads/2020/07/logoExtended-1030x255.png
0
0
Rigsby Search Group
https://rigsbysearch.com/wp-content/uploads/2020/07/logoExtended-1030x255.png
Rigsby Search Group
2017-02-15 15:02:57
2017-02-15 15:02:57
How To Make Better Hiring Decisions